It's with enthusiasm that we start the New Year 2023, being also very proud of what has been realized in 2022! 2022 has been a challenging year, with many new milestones achieved, toward our objective of accelerating the development of the certification market for green and low-carbon hydrogen.
CertifHy™ has elevated the certification scheme from a concept to an implementation phase. It has been crucial to provide clear and precise information about our non-governmental certification (NGC) scheme for all potential users. We developed for this purpose a short video, explaining how our certification scheme works:
In April, the members of our Stakeholder Platform voted the endorsement of the new CertifHy™ scheme, ratifying the adjustments made to the existing documents in order to comply with the requirements of the Association of Issuing Bodies' (AIB) European Energy Certificate System (EECS). It represents a key milestone to set up a sound and trustworthy basis for non-governmental certificates as well as for national GO systems harmonized across Europe.
Moreover, CertifHy™ has been adopted in the Netherlands as a national GO system. Since October 2022, Vertogas, a 100% subsidiary of Gasunie, is issuing GOs for green hydrogen using the CertifHy™ scheme.
CertifHy™ is also assisting H2 project developers in preparing for their future certification needs. This is what we did with the HyNetherlands project where CertifHy™ was selected for a RFNBO certification pilot of its e-methanol production. Read the entire Press Release here to get more information
Our market presence was also noticed thanks to our colleagues, Matthieu Boisson and Wouter Vanhoudt, who were invited as guest speakers at many hydrogen conferences, to explain
how CertifHy pioneers the hydrogen certification market, helping EU Member States to accelerate the implementation of H2 guarantees of origin and
how CertifHy has developed an EU Voluntary Scheme for the certification of hydrogen as RFNBO (Renewable Fuel of Non-Biological Origin) compliant with REDII and REDII Delegated Acts requirements.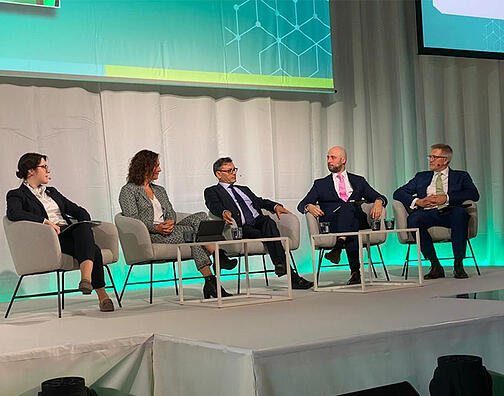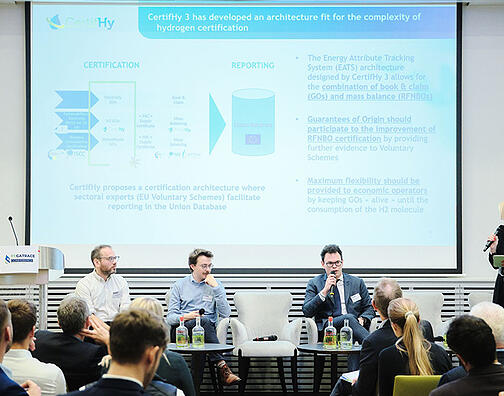 Last but not least, at the end of the year, we announced a Memorandum of Understanding (MoU) with Roundtable on Sustainable Biomaterials (RSB). Through this collaboration, CertifHy™ will support RSB in the development of its Impact Alliance, explore collaboration pathways around H2Global and work together on the RFNBO certification market, including the SAF (Sustainable Aviation Fuel) market.  The expansion of the scope of certification to the RFNBO market will further improve the value of green hydrogen for the transport sector and the industry and allow economic operators to capture the premium value of the renewable hydrogen they produce and supply.
2023 will bring us new opportunities with several partners:  
With our Stakeholder Platform: We will continue collaborating closely with the Members of our Stakeholder Platform to continuously improve our CertifHy schemes and scale it up to be recognized by new Certification Bodies.
With RSB: We expect from our collaboration with RSB to access new markets while being able to leverage our expertise on e-fuels and sustainability frameworks towards developing a robust certification system adapted to the urgency of climate change and the needs of the market.
With the AIB (Association of Issuing Bodies): Our next objective is to become recognized as an Independent Criteria Scheme (ICS) by the AIB to facilitate further the adoption of hydrogen certification for disclosure in Europe. We aim to submit our application in Q1 2023 and target approval before the end of the year.
With the EU: We will submit our RFNBO scheme for hydrogen and e-fuels, compliant with REDII, in Q1 2023.
With hydrogen and e-fuels producers: We run certification pilots according to the CertifHy™ Voluntary Scheme. Through our pre-certification pilots, we ensure, in collaboration with an auditor recognized by CertifHy™, that hydrogen production facilities meet the regulatory certification requirements set out in RED II and its associated upcoming Delegated Acts.
Don't miss our next events!
January 31st: OECD Webinar: Certification for facilitating international trade of green hydrogen, Wouter Vanhoudt
February 2nd: H2Chile Webinar on H2 certification schemes, Matthieu Boisson
February 14th: 4th Stakeholder Platform Plenary Session
March 15-16th: World Electrolysis Congress, Matthieu Boisson